4 days of fruit, sport, lectures and fun
Experience the event of a lifetime and get the motivation, knowledge and support you need to thrive long term on a fruit based diet.
Come and join the amazing Fresh Food Festival in Denmark in northern Europe for 4 days at the end of July. It is a yearly event that celebrates the principles of raw food 80/10/10 style and a healthy way of living. At the festival, you can enjoy a variety of lectures with internationally renovned speakers, sports and fitness activities plus fun socializing activities where you can meet other like-minded people. You also get to enjoying delicious raw fruitbased meals made from fresh, ripe, raw fruits and vegetables. It is an international festival so everything is in English and we hope to see people from all over the world again this year. This year we celebrate our 10th year anniversary so it is going to be better than ever.
4 amazing days of activities and lectures plus accommodation and full board
Full lecture and activity programme from early morning till bedtime
Internationally renowned speakers flown in from around the world
Life changing lectures in English on diet, lifestyle, health, and fitness
Abundance of organic raw fruits of vegetables plus the chance to taste expensive exotic fruits
Mono-meals of fruit and delicious gourmet 80/10/10 creations made by top-level raw food chefs
Accommodation in shared rooms at a boarding school located in pristine nature not far from Copenhagen in Denmark.
A smoke, drug and alcohol free festival with clean water, fresh air and a high and positive vibe.
A host of fun activities for socializing and getting to know new people
An openhearted and positive community experience with people from around the globe. (Many come on their own so don't be afraid to do so).
An amazing week in Croatia sailing around the Mediterranean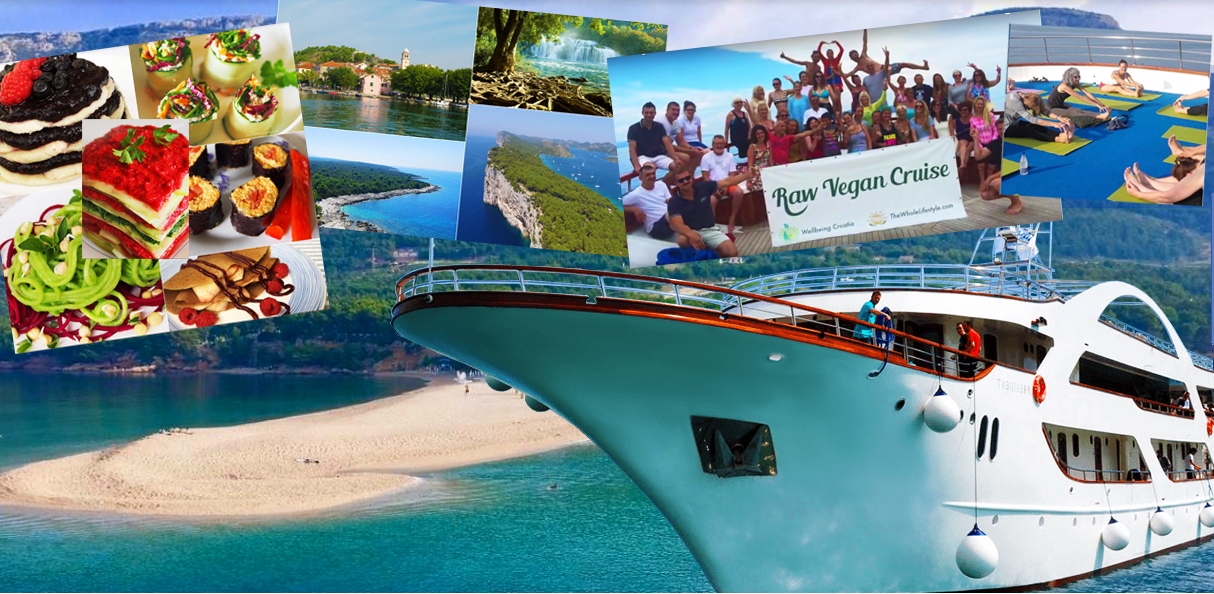 This raw vegan cruise is organized by a good friend of mine and it sounds so amazing that I simply have to share it.
I'm not going myself but the cruise is happening from the 24th of June to the 1st of July, 2017 or from the 12th to the 19th of August, 2017. It is an amazing opportunity to kick-start or boost your raw vegan journey, while having a transformational and luxurious experience with likeminded people.
The boat will sail around the Mediterranean and stop at interesting locations on the way. Every day there will be yoga and meditation on the deck plus swimming in the warm, turquoise water. You will also get daily mind empowering workshops with the vegan pioneers Jesse and Reny plus a few classes on raw vegan food preparation.
All the food will be raw and vegan and all meals and snacks are included in the price. The food will be prepared by a highly skilled raw food chef and made on board with fresh, organic, mostly local produce in season.
Anyone can join the cruise regardless of present diet, so if you would like to enjoy a super healthy and relaxing vacation, while cleansing, rejuvenating and restoring your body and soul then this cruise if for your.