GET WELL – NATURALLY!
WITH A DIET AND LIFESTYLE CHANGE
When you cut yourself or break an arm your body will heal it. It is not the doctor, nor the medication that does that. Your body can heal a lot of things if you allow it to, but most people never learned how. That is what I can teach you.
HAVE YOU TRIED EVERYTHING TO GET WELL?
Do you suffer from one or more health problems, maybe a  chronic one with no hope of improvement? Have you tried all the conventional methods with lots of medication? Or alternative methods with lots of supplements and treatments? Do you feel tired, stressed out and burned out because of all of this? Has your doctor given up on you? Do you worry that it might get worse? Do you feel like you have nowhere to go? Then you feel like I did but luckily there is still a lot you can do yourself.
My name is Louise Koch and I got well naturally from a long list of diseases. My liver didn't work, I had severe adrenal fatigue, gout, insomnia, candida, my hormones didn't work, I had daily anxiety attacks and a doctor told me that I had so much damage to my cells and DNA that the next step would be cancer if I did not do something radical. Today I'm perfectly well and now I help other people get well naturally so that they too can get their life back. Read my full story…
It is all about adding the things your body needs and removing the things it doesn't need. This will increase your bodys energy to heal and detox itself and the key words are raw foods in a ratio called 80/10/10 with a lot of fruit, green smoothies plus a change of lifestyle and way of thinking. Learn more…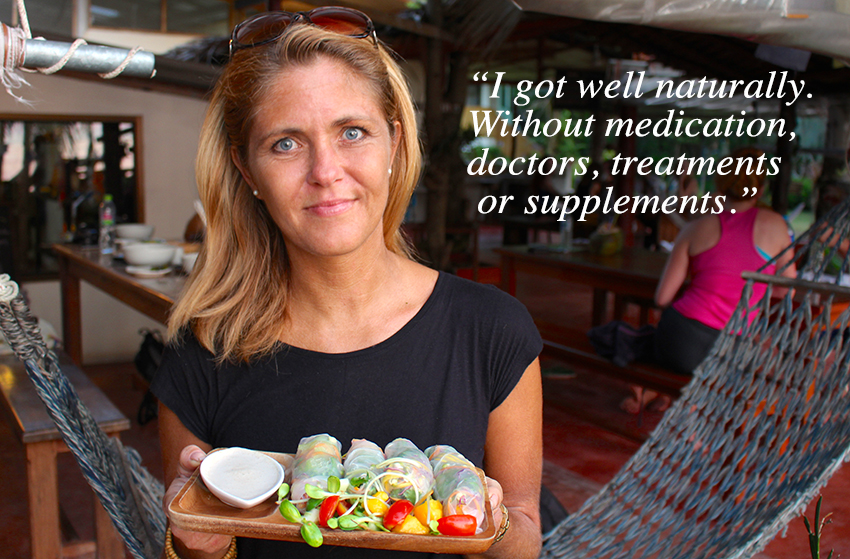 Louise Koch is a Danish author, speaker, coach and event maker. She has cured herself naturally and today she helps other people get succes with their diet, lifestyle and mental attitude that helped her. Why? Because life is simply too short to be ill and no one deserves it. Learn more…
The body is amazing and can heal a lot of things and if you look at the success stories below people have overcome all sorts of things, e.g. diabetes, cancer, overweight, acne, crohns, sclerosis, candida etc.  The natural way is in no way a quick fix and requires vitality, determination and percistancy but it can really be worth while if you give it a try.
If you sign up to my newsletter today you can download my 'Top 5 Tips' totally free. In it I will give you an introduction to all the areas you will need to look at and also some actions you can do today. Sign up in the form at the top to get instant access.
SUCCES STORIES
Around the world people get well the same way as I have done it.
I have met some of them and below you can hear their amazing stories.
Free from depression, vertigo, arthritis, high blood pressure, herpes, kidney problems
Free from stomach ache, bloating, irritable bowel syndrome (IBS) and adrenal fatigue
Free from hot flashes (menopause), hip pain, bursitis, fungus, athletes foot, arthritis
Overcame kidney disease (avoided transplant), overweight, high blood pressure and high cholesterol
Overcame serious Lyme Disease (Borrelia/ tick bite)
Free from sugar addiction, stomac pains, fatigue, candida/ fungus, edemas, psoriasis
Overcame depression, joint pains, candida and declining health
Adrenal fatigue, ovarian cysts (PCOS), acne, painful periods, infertility and depression
GET STARTED TODAY
I have created an easy 'Get Started Guide' (digital eBook – 38 pages ) so that you can get started today. You will get lists of what to eat and what not to eat, tips for shopping and food preparation, guidelines for calorie intake, easy to make recipes, tips for storage and ripening, suggestions for a one week meal plan, tips on how to avoid cravings, dental problems and being a social outcast plus a lot more. You can learn more and buy this digital eBook here:
GET PERSONAL COACHING VIA SKYPE
I'm a certified coach and I can help you with things like meal planning, transitioning, backup plans for cravings, dietary lists, calories and a lot of other things that make sure you avoid the pitfalls and classic beginner mistakes. I offer personal one on one coaching via Skype. Book your session today.